Well I've gone and done it. I've started my duck collection.

I was going to wait and get some Cayugas but I had so many broody Hens what else could I do.

I put half a dozen Swedish Blue duck eggs under one of the broodys. 28 days later. 4 Adorable ducklings and a Mum that doesn't seem to notice they are 'special'.
Attachment:
ducks2.jpg [ 97.68 KiB | Viewed 2841 times ]
A couple of weeks later;
Attachment: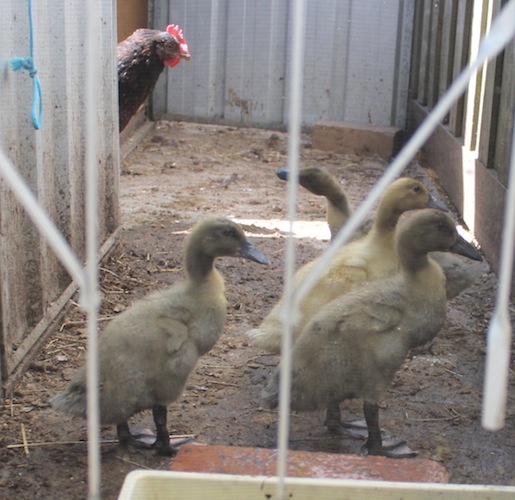 mum with ducks.jpg [ 88.6 KiB | Viewed 2842 times ]
I thought chickens grew quick. Wow ducks grow like crazy.
Video of the little tackers here. Feel free to tell me if I have boys or girls. Still too soon to tell I think.

http://www.youtube.com/watch?v=KS-KPXz0eBA
cheers,
Jo

_________________


____________________________________________________________________________________________




1 Tibetan Mastiff (Odin)

, 1 Rottweiler (RIP Sam 18-10-99 to 27-5-11), 2 Moggies (Pepper & Max), 24 chooks (Barred Plymouth Rocks x 3,Light Sussex x 1, Barnevelder x 3, Australorps x 3, Araucana x 7, ISA Brown x 6)




Barry the leghorn on permanent loan


Four Swedish Blue ducklings.


....... and always looking for more