For the beginner.
Here is a video clip that shows
VERY CLEARLY
the difference in wattles of males and females. Notice the first GF has large cup wattles and crown then the video move on to the female which
CLEARLY
has much smaller, flat wattles and smaller crown. Then the last bird on the rock in the clip is of course a male, I know, I know its
so
obvious for 99% of people but that 1% need special learning help

Male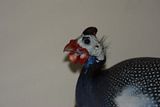 Female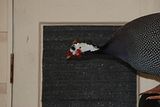 Male
Picture from APF Gallery
Male front and back left - Female back right
Picture from APF Gallery
Male
Picture from APF Gallery
Two Females
Picture from APF Gallery
The best way to sex guinea fowl is by the Wattles [lobs] not by call as you have to wait until they are mature. The experienced breeders use wattles only and at a young age. If you are told or read that a hen can have the same size wattles as a male that is total rubbish and that person has no idea about guinea fowl.